Navigate in: Māori | English
The words and expressions of a waiata or haka preserve the wisdom and knowledge of our ancestors.
Waiata
Traditionally, waiata were performed in unison, with very few actions and no musical instruments or choreography. In contrast, contemporary waiata:
are commonly sung with accompaniment
include harmony
are performed with a variety of actions (and often complicated choreography).
The waiata "E te Hokowhitu a Tū" (selected in this resource to represent C Company) is an excellent example of how Māori were adept at borrowing tunes of the era and fitting in their own lyrics to suit the context. It was written to the swing tune of Glenn Miller's big band composition "In the Mood", in the context of the 28th Māori Battalion, with particular reference to 2nd Lieutenant Moana-nui-a-Kiwa Ngarimu VC.
The waiata "E Pari Rā" (selected to represent D Company) is also said to be a borrowed tune from Germany, namely the "Blue Eyes Waltz", in 3/4 timing.
Haka
Haka is often referred to as a posture dance. It can be associated with Māori men and war, but there are other types performed by women and children.
The haka peruperu (as in "Ka Eke i te Wiwī", the haka selected to represent A Company) is characterised by its leaping movements and was historically performed before a battle to invoke the god of war, Tūmatauenga, and frighten the enemy. This haka had to be precise and performed in total unison, to avoid bad luck falling on the warriors during battle.
A haka taparahi is a ceremonial haka. Examples are "Ka Mate" (which is said to celebrate the triumph of life over death), and "Haane" (the haka selected here to represent B Company), which celebrates, posthumously, the life and achievements of the soldier Haane Manahi.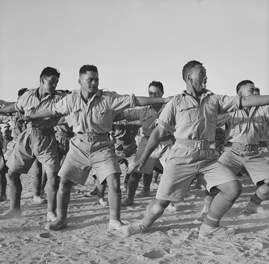 Overview of waiata and haka in this resource
28th Māori Battalion

Waiata/haka

Themes

A Company

"Ka Eke i te Wiwī"

A haka peruperu/tūtū ngarahu with ancient wording and unique style that involves jumping from side to side – both legs lifting and landing in unison.

Formerly performed prior to battle to frighten enemy – now performed at pōwhiri (welcomes).

B Company

"Haane"

A haka taparahi performed originally at a national kapa haka competition.

Kaitiakitanga (guardianship)

C Company

"E te Hokowhitu a Tū"

An action song composed by Tuini Ngāwai.

Women's perspective (composer)

D Company

"E Pari Rā"

An action song composed by Paraire Tomoana.

Women's perspective (mother)